Employment Opportunities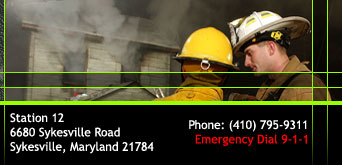 To Download Application please use the link below.

The Sykesville Freedom District Fire Department hires full and part time Paramedics and Emergency Medical Technicians to ensure 24 hour EMS coverage in our first-due area.

Our employees also serve as firefighters, while some are also trained as apparatus drivers and engineers.

We offer competitive pay rates and a generous benefits package to our valued employees. To fill out an application, please stop by the fire station at 6680 Sykesville Road or contact Chief Eddie Ruch, Jr eruchjr@gmail.com or President David Kreimer dkreimer13@gmail.com or call 410-795-8021.

The Sykesville Freedom District Fire Department is an Equal Opportunity Employer.
---
---
Volunteer Membership

Carroll County is one of the few areas in Maryland that is protected by volunteer fire departments. There are fourteen independent departments in the county that work together to provide excellent fire and pre-hospital medical coverage.

The Sykesville-Freedom District Fire Department is the second-busiest company in Carroll County, protecting the residents of the Sykesville and Eldersburg areas. While the department does hire paid EMS personnel to staff the ambulances, its the volunteers that are the heart and soul of the organization.

Gone are the days when firefighters worked in the same town they lived in. Back then, when the fire whistle or bell sounded, employers would release their firefighters to answer the alarm. Being good neighbors, they knew that what goes around comes around.

Times have changed. Volunteer firefighters now work far from their homes and are unable to answer the alarm. The increased call volume, combined with stringent training requirements and the demands of everyday life dictate that more volunteers are needed. Nationally, the volunteer fire service is suffering, and Sykesville is no exception.

How can you help? Consider volunteering. We provide the equipment and the training necessary to become firefighters or EMS providers. If riding the emergency units isn't your thing, we also have need of volunteers in many administrative areas, including accounting, administration, fund raising, and fire prevention.

If you are 16 and older, and would like more information on how you can help, please call the station at 410-795-9311; or feel free to download our membership application.

We also have a very active and successful junior program for young people ages 12-16. You can find out more about them by visiting the Juniors page, or download our junior application.

It's one of life's most rewarding experiences knowing that you are helping to serve others in their time of need. Will you answer the call?