Upcoming Events

There are currently no events


2017 Call Stats
FIRE
EMS
January
87
228
February
104
209
March
170
247
April
124
244
May
33
73
June
July
August
September
October
November
December
Total
518
1001
2017 Unit Run Stats
Unit
Responses
Medic 127
59
Medic 128
416
Medic 129
454
Engine 123
105
Engine 124
104
Tower 12
44
Squad 12
74
Duty 12
66
Utility 12
64
Brush 125
22
ATV-12
4
Total
1412
Past Responses
Year
Fire
EMS
2016
1469
2761
2015
1427
2852
2014
1006
2619
2013
828
2123
2012
764
2261
2011
864
2139
2010
859
2215
2009
1017
2182
2008
835
2127
2007
1057
1966
2006
1071
1947
2005
960
1849
Web Counters
Website Visitors
Since
January 1, 2012

Visitors Today
May 30, 2017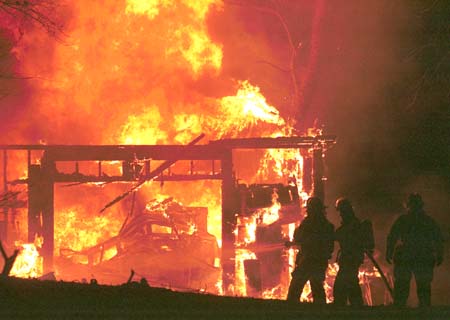 "Like" our Facebook page here!
Follow us on Twitter @SykesvilleFD
Early Morning Vehicle Fire

Sykesville Fire Department , May 25

Just after 2:00 am this morning Engine 123 responded to Oakland Road in the area of the Water Treatment Plant for a reported unknown fire in the woods. After responding Engine 123 was advised that it was now reported to be a vehicle on fire.

Engine 123 arrived on scene and found an unoccupied vehicle fully involved in fire. The crew from Engine 123 advanced a hand line and extinguished the fire. ... (Full Story & Photos)

Large Mulch Pile Fire

Sykesville Fire Department , May 14

On Sunday afternoon Sykesville Fire Units responded to the 7800 Block of Kabik Court in Woodbine for a reported mulch pile on fire. First arriving Engine 123 reported a 200' X 200' mulch pile on fire.

Crews completed a scene size up and made the determination that several tankers where needed to assisted with controlling the fire. Tankers from Howard and Carroll County responded to the scene and ... (Full Story & Photos)

Woods Fire

Sykesville Fire Department , May 06

On Saturday Morning Engine 124 responded to the area of Liberty Reservoir and Route 32 for smoke in the area. Engine 124 arrived in the area and found a large amount of smoke coming from the woods in the area of Hodges Road. Engine 124 request additional units to assisted with locating the fire.

Units responded to the dead end portion of Hodges Road and utilized ATV 12 to locate the fire. Crews were ... (Full Story & Photos)

Outside Fire

Sykesville Fire Department , May 05

On Friday May 5, 2017, at approximately 9:10 am, units from Sykesville responded to a reported house fire in the 5200 Block of Stone Mill Court in Gamber's Fire Departments first due area.

First arriving units found a fire behind the house involving several ATV's and no extension to the house. Sykesville units operated on the scene for a short time before going in service. ... (Full Story & Photos)

LISTEN LIVE TO CARROLL COUNTY, MD FIRE COMMUNICATIONS
(CLICK HERE)

MISSION STATEMENT
It is the mission of the Sykesville-Freedom District Fire Department to preserve life and property, promote public safety and foster economic growth through leadership, management and actions, as an all risk life safety response provider.