Upcoming Events

There are currently no events


2017 Call Stats
FIRE
EMS
January
87
228
February
104
209
March
170
247
April
15
41
May
June
July
August
September
October
November
December
Total
376
725
2017 Unit Run Stats
Unit
Responses
Medic 127
0
Medic 128
325
Medic 129
400
Engine 123
82
Engine 124
83
Tower 12
34
Squad 12
61
Duty 12
53
Utility 12
40
Brush 125
15
ATV-12
3
Total
1096
Past Responses
Year
Fire
EMS
2016
1469
2761
2015
1427
2852
2014
1006
2619
2013
828
2123
2012
764
2261
2011
864
2139
2010
859
2215
2009
1017
2182
2008
835
2127
2007
1057
1966
2006
1071
1947
2005
960
1849
Web Counters
Website Visitors
Since
January 1, 2012

Visitors Today
Apr 30, 2017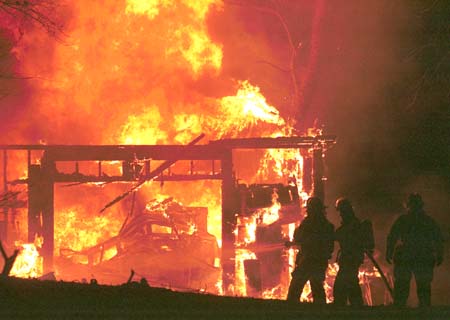 "Like" our Facebook page here!
Follow us on Twitter @SykesvilleFD
Vehicle Collision with Entrapment

Sykesville Fire Department , April 25

Yesterday afternoon Rescue Squad 12 and Medic 127 responded to Route 91 at Deer Park Road for a reported vehicle collision with rescue. First arriving units from Gamber reported a two vehicle accident involving a box truck and a SUV with three people trapped. Command requested another medic unit and the hazmat team to assist.

Rescue Squad 12 arrived and went to work extricating the driver that was ... (Full Story & Photos)

Sykesville Fire Department Juniors hold community Food Drive

EMT-B Mari Barnes, April 22

On April 8th the Sykesville FD Juniors held a community Food Drive at Shoppers Grocery store on Liberty Road Sykesville. The Juniors with the help of the community were able to fill a flat bed of a truck, with approixametly 1000 pounds of non perishable food. This is the second year the Juniors have held a food drive, next year they plan to fill two trucks.

... (Full Story)




Double Fly Out From Motorcycle Accident

Sykesville Fire Department , April 15

Early this morning just passed 1:30 am, Sykesville Fire and EMS units were alerted for a serious motorcycle accident at Route 32 and Bennett Road. Units were also advised that the Sheriff's Department was on the scene advising the accident was on Bennett Road.

Units arrived to find a single motorcycle accident with two patients laying in the field on Bennett Road. It was determined that one patient ... (Full Story & Photos)

Woods Fire

Sykesville Fire Department , April 10

On Monday afternoon Engine 124 and Brush 125 responded to the 5500 block of Old Washington Road for a report large woods fire. Brush 125 arrived and found approximately 2 acres of woods on fire. Units had to make access through a field to gain access to the woods.

After the first arriving units completed a size up they requested additional brush trucks and several tankers to assist with extinguishing ... (Full Story & Photos)

Easter Bunny Breakfast

Firefighter/EMT Heather Blum, April 06

Come enjoy a home cooked breakfast made by our Firehouse cooks on Sunday, April 9th, 2017 from 8:00am to 12:00pm. Bring your camera and get your picture taken with the Easter Bunny. Enjoy Easter videos and make an Easter craft with your children.

Breakfast includes Scrambled Eggs, French Toast Sticks, Pancakes, Hash Browns, Biscuits w/ Sausage Gravy, Bacon, Sausage, Fruit cup, Juices, Milk and ... (Full Story)




LISTEN LIVE TO CARROLL COUNTY, MD FIRE COMMUNICATIONS
(CLICK HERE)

MISSION STATEMENT
It is the mission of the Sykesville-Freedom District Fire Department to preserve life and property, promote public safety and foster economic growth through leadership, management and actions, as an all risk life safety response provider.