2014 Call Stats
FIRE
EMS
Jan
96
226
Feb
105
209
Mar
0
0
Apr
0
0
May
0
0
Jun
0
0
Jul
0
0
Aug
0
0
Sep
0
0
Oct
0
0
Nov
0
0
Dec
0
0
Total
201
435
2014 Unit Run Stats
P127
114
P128
84
P129
220
E-123
42
E-124
19
TWR 12
16
SQ 12
17
Duty 12
10
U12
22
BR 125
2
ATV 12
2
Total
548
Past Responses
Fire
EMS
2013
828
2,123
2012
764
2,261
2011
864
2,139
2010
859
2,215
2009
1,017
2,182
2008
835
2,127
2007
1,057
1,966
2006
1,071
1,947
2005
960
1,849
Visitors Since
August 16, 2004

---
Have you liked our Facebook page yet? Check it out here!
---
One woman dead in Sunday morning house fire on Flag Marsh Road

Chief Eddie Ruch Jr, March 09

An elderly woman was killed in a house fire Sunday morning in the 2800 block of Flag Marsh Road, which is located between Woodbine and Mount Airy, according to a Mount Airy volunteer fire company spokesman.

The name of the victim was not released immediately by the Maryland State Fire Marshal's Office, which will not release the woman's name until positive identification is made by the Office of ... (Full Story & Photos)



Provided by Carroll County Times

Change your Clock - Change your Battery

Firefighter/EMT Christine Flanagan, March 07

In anticipation of daylight saving time (DST) beginning in the early morning hours of March 9th, the State Fire Marshal is urging Marylanders to "Change Your Clock – Change Your Battery" in both smoke alarms and carbon monoxide (CO) detectors in their homes. Recognizing that working smoke alarms and CO detectors double a family's chance of surviving a home fire and/or unsafe carbon monoxide levels, ... (Full Story & Photos)

Head on Crash with Fly Out

Chief Eddie Ruch Jr, March 06

This morning just after 7:00 AM, Sykesville Fire and Rescue units were dispatched to the intersection of Liberty Road and Emerald Lane for a reported vehicle collision with rescue. Chief 12 arrived on the scene to find a head on crash involving two vehicles and one subject trapped and assumed the Liberty Road Command.

Paramedic 129 arrived and went to work providing emergency medical care to the ... (Full Story & Photos)

Tower and Squad Respond to Mt. Airy House Fire

Chief Eddie Ruch Jr, March 05

Last night Tower 12 and Rescue Squad 12 responded to the 7100 Block of Jacks Court in Mt. Airy for a reported electrical fire in a house. Chief 1 (Stull) arrived on the scene to find a single story wood frame rancher with smoke showing and advised that all occupants were out of the house.

Crews from Mt. Airy were able to locate the fire in the basement of the house. Tower 12's crew upon arrival ... (Full Story)




One Killed in Marriotsville Road Accident

Chief Eddie Ruch Jr, February 28

On Thursday February 27, 2014, Sykesville Fire and Rescue units responded to a overturned vehicle at the intersection of Marriotsville Road and Henryton Road. During the response units were advised that the accident would be in Howard County at Marriotsville Road and Driver Road.

Paramedic 129 and Rescue Squad 12 arrived to find a single occupant trapped in a car on its side. Squad 12's crew went ... (Full Story)




LISTEN LIVE TO CARROLL COUNTY, MD FIRE COMMUNICATIONS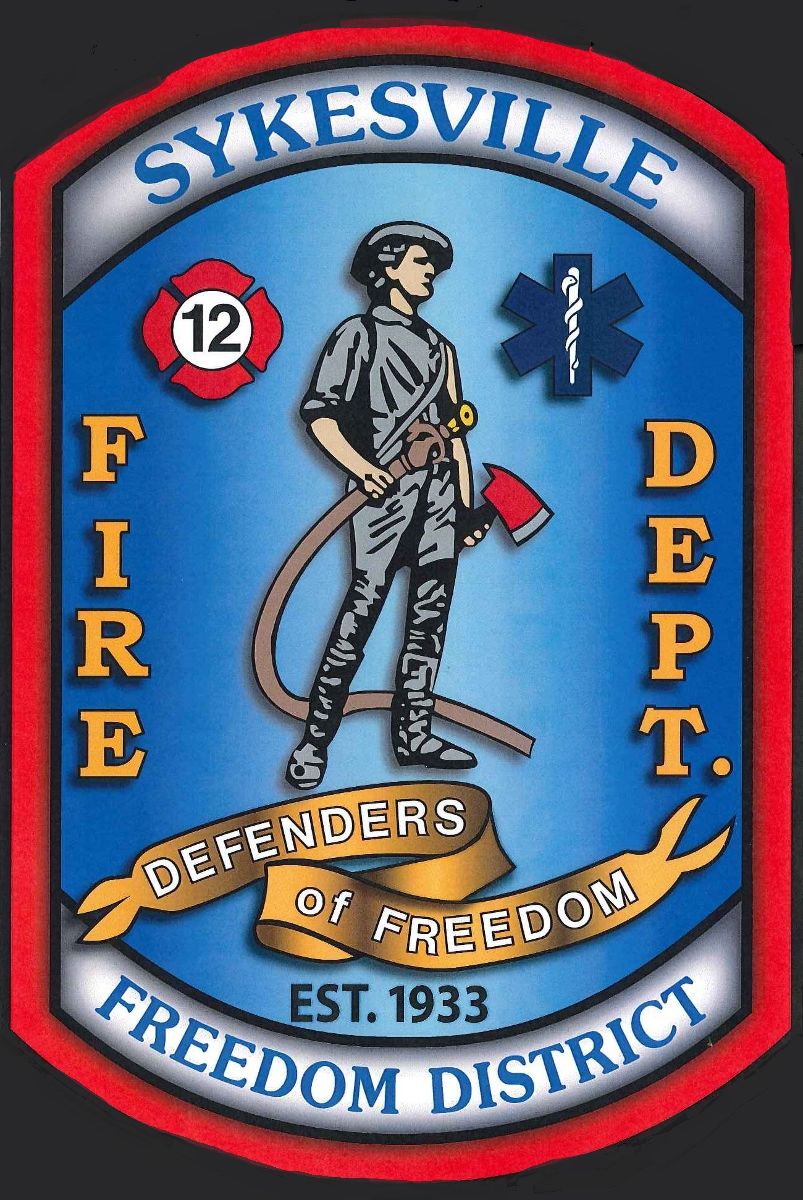 MISSION STATEMENT
It is the mission of the Sykesville-Freedom District Fire Department to preserve life and property, promote public safety and foster economic growth through leadership, management and actions, as an all risk life safety response provider.