CONCERT TICKETS ON SALE NOW FOR
Tribute to Elvis Featuring Michael Hoover
AND
BARLEYJUICE!!!! Live on stage!
These shows will sell out. For online ticket sales please go to the website below.
http://sykesville-freedomdistrict-fire-department.ticketleap.com
If you dont like to buy online then call 410-596-1287
Contact bpearce@sykesvillefire.org
---
Have you liked our Facebook page yet? Check it out here!
---
THINK FIRE SAFETY AT THANKSGIVING ARE YOU AWARE?

Chief Eddie Ruch Jr, November 25

Thanksgiving is the leading day of the year for home fires involving
cooking equipment!

PIKESVILLE, MD (November 22, 2013) – The kitchen is the heart of every home and safety must be adhered to when preparing the family feast. On Thanksgiving Day a lot of activities are going on and friends and family are in the home. "Holidays are a time of celebration. Please follow these simple guidelines to ... (Full Story & Photos)

Rescue at McKeldin

Deputy Fire Chief Brett Pearce, November 18

Sykesville Fire and EMS personnel responded to the Patapsco State Park, McKeldin area for a reported woman thrown from a horse. When units arrived it was discovered that the patient was located in a hard to reach area of the park ad removal by land was difficult due to terrain. Maryland State Police Aviation (Trooper 3) was requested to assist in removing the patient utilizing a hoist. Once in the ... (Full Story)




Upcoming Concerts!

Deputy Fire Chief Brett Pearce, November 13

We have two concerts coming up at Legacy Hall for fundraising events. For those that attended either one of these events last year are sure to tell you that they were AMAZING.

February 1st 7-11pm (doors open at 6).

Memories of Elvis featuring Michael Hoover!

Michael Hoover has travelled all over the world and been featured in several television appearances. After winning the title "Best Elvis ... (Full Story & Photos)


Michael Hoover "Memories of Elvis"

TOY DRIVE

Deputy Fire Chief Brett Pearce, November 12

The Sykesville-Freedom District Fire Department is once again collecting new unwrapped toys to benefit the John Hopkins Children's Hospital. As in years past we've gotten an enormous amount of support from the community on this very special event. We ask that anyone wanting to donate please drop off new unopened toys to the fire station prior to December 14th. We hope to be able to bring a whole lot ... (Full Story)




Now Hiring Part Time Paramedic/Firefighters

Employee Manager Kenny Stull , November 06

NOW HIRING PART TIME PARAMEDIC/FIREFIGHTERS

The Sykesville-Freedom District Fire Department is now seeking part time Paramedic/Firefighters to fill vacancies. We are a combination paid/volunteer department and looking for motivated individuals that are able to work various hours to include nights, weekends, and holidays. Download the application and either drop off or email to kstull@sykesvillefire.org ... (Full Story)




LISTEN LIVE TO CARROLL COUNTY, MD FIRE COMMUNICATIONS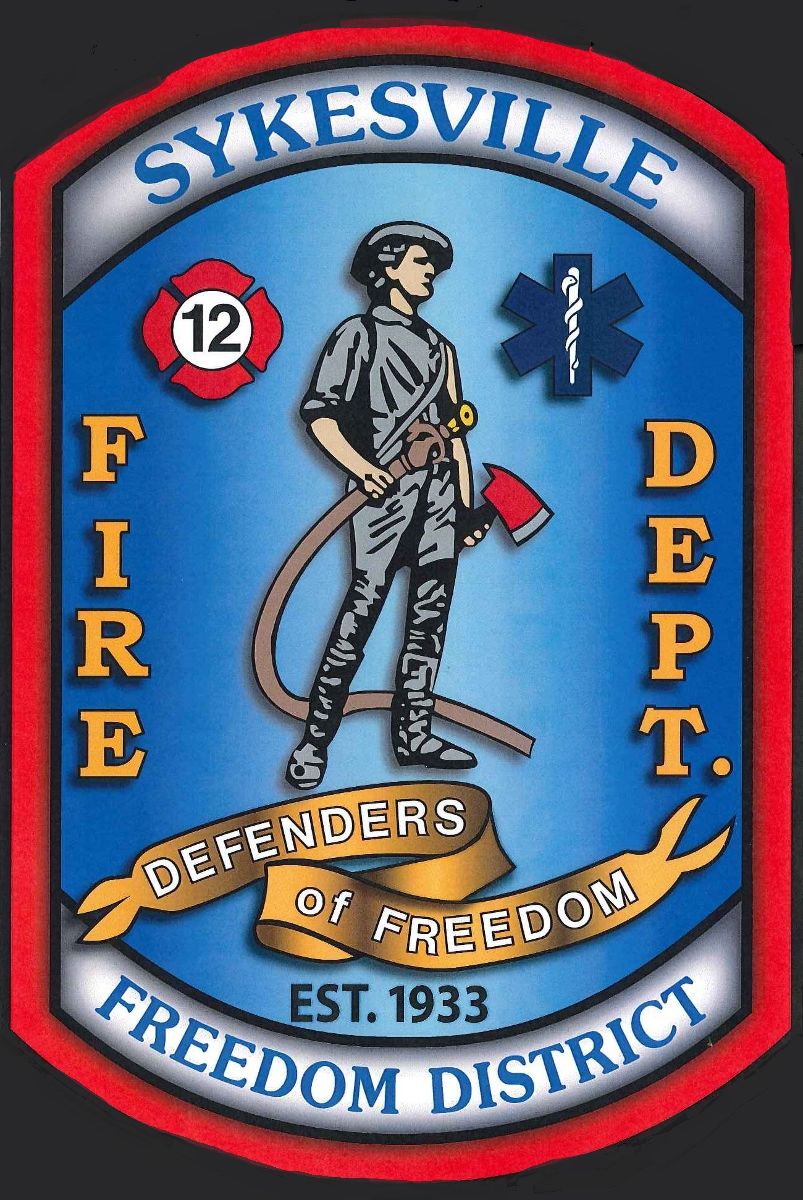 MISSION STATEMENT
It is the mission of the Sykesville-Freedom District Fire Department to preserve life and property, promote public safety and foster economic growth through leadership, management and actions, as an all risk life safety response provider.