2020 Call Stats
FIRE
EMS
January
February
March
April
May
June
July
August
September
October
November
December
Total
0
0
2019 Unit Run Stats
Unit
Responses
Medic 127
1494
Medic 128
1504
Medic 129
267
Engine 123
399
Engine 124
241
Tower 12
156
Squad 12
155
Duty 12
208
Utility 12
339
Brush 125
56
ATV-12
14
Total
4833
Past Responses
Year
Fire
EMS
2019
1568
3265
2018
1550
2905
2017
1423
2850
2016
1469
2761
2015
1427
2852
2014
1006
2619
2013
828
2123
2012
764
2261
2011
864
2139
2010
859
2215
2009
1017
2182
2008
835
2127
2007
1057
1966
2006
1071
1947
Web Counters
Website Visitors
Since
January 1, 2012

Visitors Today
Jan 20, 2020


WE ARE HIRING!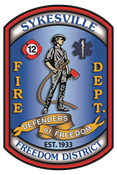 CLICK HERE FOR MORE INFORMATION!
---
"Like" our Facebook page here!
Follow us on Twitter @SykesvilleFD
House Fire In Sykesville

Firefighter/EMT Bill Flanagan, January 03

Sykesville Fire Department responded with Gamber, Winfield and West Friendship fire departments to a report of a house on fire across the street in the 1000 block of Courtland Drive at 2:22 this afternoon. Chief 12 arrived to find fire showing from the front of the house with all occupants accounted for and out of the house. Additional resources from Reese were requested for a working fire dispatch ... (Full Story & Photos)

Major Gas Leak in Eldersburg

Firefighter/EMT Bill Flanagan, December 23

Sykesville and Howard County fire crews responded to a gas line struck in the 6300 block of Rt 32/Sykesville Road around 8:00 am Monday morning. Sykesville crews arrived on the scene to see high pressured gas shooting out of a road construction crew's trench that they had been working in. The construction crew had severed a 1.5" high pressure natural gas line while working on a water main leading ... (Full Story & Photos)

Sykesville Fire Department Santa Routes 2019

Firefighter Nick Bonacci, December 06

December 15 to December 21

Routes begin at 6:30pm and end at 9:00pm

Routes subject to change due to Emergency calls and inclement weather.


Sunday 12/15/19 – Northeast/Southeast
Snowdens Run Road, Forest Lane area, Red River/Stillwater/Monroe Ave. area, Rudy Serra Dr., Harvest Farm, Quail Meadow, Carroll Highlands, Locust Lane area, Ridenour Way (Nells Acres), Sunset Drive, Cable/Blacksmith ... (Full Story & Photos)

Careless Smoking Leads To Fire At Denny's

Public Information Officer Bill Rehkopf, November 29

Sykesville fire crews, assisted by mutual aid units, extinguished a building fire at Denny's Restaurant on Ridge Road Friday morning.

Captain 12 (Polikoff) arrived on the scene in Duty 12 moments after the 6:01AM dispatch time to report a working fire on the exterior of the building working its way into the eaves, requesting the Rapid Intervention Dispatch.

Crews worked inside and outside of the ... (Full Story & Photos)

Thanksgiving morning house fire

Firefighter/EMT Bill Flanagan, November 28

Stations in southern Carroll County were alerted this morning at 9:31 for a house fire in the 6700 block of Carroll Highlands Road. Engine 123 arrived on the scene to find the rear deck on fire with possible extension into the house. The crews quickly extinguished the fire and started checking for possible fire extension. Tower 12 arrived and crews worked to ventilate the house and to check for fire ... (Full Story & Photos)

LISTEN LIVE TO CARROLL COUNTY, MD FIRE COMMUNICATIONS
(CLICK HERE)

MISSION STATEMENT
It is the mission of the Sykesville-Freedom District Fire Department to preserve life and property, promote public safety and foster economic growth through leadership, management and actions, as an all risk life safety response provider.