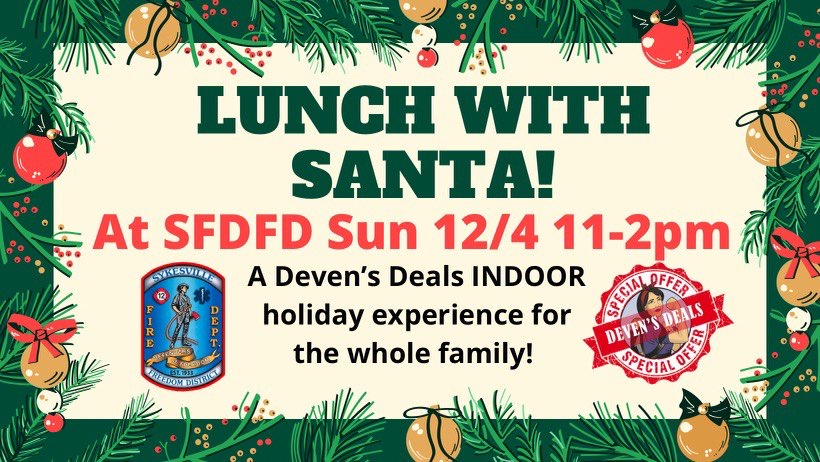 Join us this year for

LUNCH WITH SANTA

We are bringing Deven's Deals out of the cold this year and trying lunch with Santa instead of breakfast!
Mark your calendar!!!!!!
December 4th , 2022 11:00am - 2:00pm
Sykesville-Freedom District Fire Department
$10 - Adults $5 - children 3-11 years old
Free - under 3 years old
Lunch will be - Pizza , Chicken Tenders , Hotdogs, Nachos & Chips , Soda and hot chocolate .
Will have Bake table with goodies for sale
all proceeds go to Fire Department

Pictures with Santa (bring camera ) or
Pictures with Santa with Jenna and Carly photography! (Free) donation welcome !

Plenty of vendors to visit . Goodies for children. While having a holiday lunch experience for the whole family .
Thank you to ( Deven's Deals ) for partnering with us this year .

Collecting un-wrapped toys for boys and girls
( Johns Hopkins Hospital )

Looking forward to seeing everyone
Happy Holidays
---
JHU Snowflake Station 2022!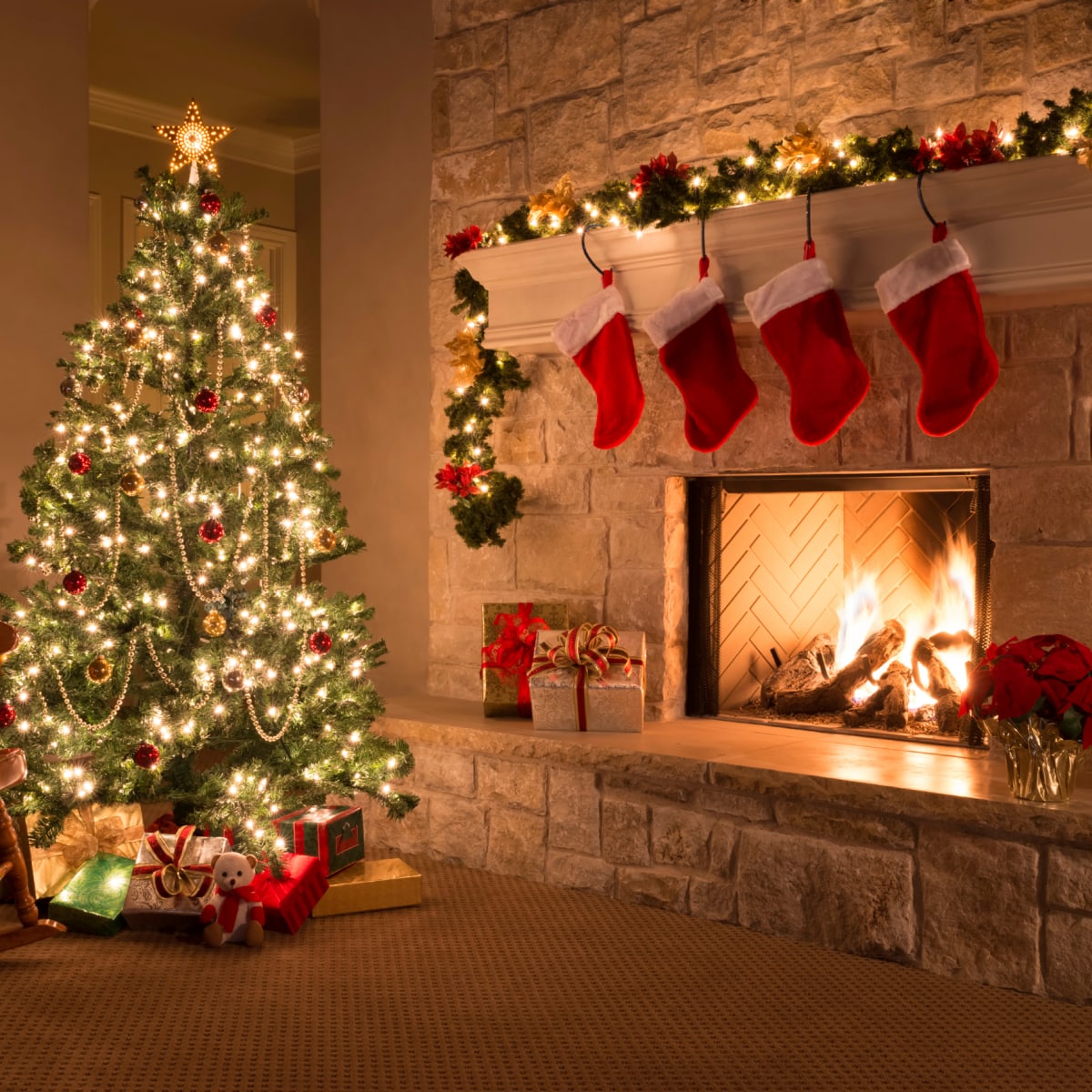 Snowflake Station, a free holiday toy shop for our patient families, has become part of the rich fabric of how the Children's Center helps families find meaning in the holiday season. We recognize that having a sick or injured child gets in the way of preparing for the holidays. The toy shop model allows parents to shop for their child who is hospitalized, or, siblings at home. The benefit of Snowflake Station is the personalization of items-finding those special gifts that only a parent would know. It is just the kind of experience that these families are missing during this time of year.
It is through your amazing generosity that we can host Snowflake Station each year, we can't do it without you!
We will be delivering to JHU Dec.12, please have your donations to the station a few days before this so we can arange delivery.
"Like" our Facebook page here!
Follow us on Twitter @SykesvilleFD
SFDFD 16th Annual 30K Big Money Give-A-Way 2022 Winners

Board of Director David Kreimer, October 08

Thank you to all those who purchased tickets and came out for a wonderful time for our 16th Annual 30K Big Money Give A Way, October 8th, 2022. Here is a list of all of the winners and times.

All of the winners will be contacted to claim their prize money.

Mark your Calendars October 14th, 2023, will be the 17th Annual 30K Big Money Give-A-Way. Tickets will be available soon and will be on sale ... (Full Story & Photos)


Chief Eddie Ruch Jr. receives the award from CCDFEMS Director Michael Robinson

Chief Ed Ruch Receives Honor

Public Information Officer Bill Rehkopf, October 03

The Carroll County Chapter of the Sons of the American Revolution has honored Sykesville-Freedom District Fire Chief Glenn E. (Eddie) Ruch Jr. with their "Fire Medal."

Chief Ruch was awarded the medal in recognition of outstanding service to the Sykesville Fire Department and the Carroll County Department of Fire & EMS.

Chief Ruch was presented the award at the Fire Operations Group meeting, which ... (Full Story & Photos)

Guide Dog Foundation Visits SFDFD

Public Information Officer Bill Rehkopf, September 14

Recently, the Guide Dog Foundation paid a visit to Station 12 to be introduced to the sights, sounds and smells of the fire service.

Firefighter Rob Schombert hosted the dogs and their handlers as part of the animals' training to be guide dogs and service dogs.

Among those visiting the station was "Tucker," WBAL-TV's Puppy With A Purpose.

You can watch more of Tucker's visit at the link below. ... (Full Story & Photos)

First Due Garage Fire

Lieutenant Timothy Deklau, August 05

Just after 4am on August 5, the Sykesville Freedom District Fire Department was alerted to the 6300 block of Sykesville Road for a possible structure fire. Crews arrived on scene to find a detached garage fully involved. Crews were able to quickly knock down the fire.

The garage was also close to two houses and a shed causing an exposure concern. Other than burned siding on the exposures, crews were ... (Full Story & Photos)

2022 CARNIVAL JUNE 11-18 - COME ON OUT!

Public Information Officer Bill Rehkopf, May 24

You're invited to the Sykesville-Freedom District Fire Department Annual Carnival, Saturday, June 11 - Saturday, June 18!

Great food, great rides and great entertainment for the entire family. Hope to see you there, and thank you, as always, for your generous support of your local volunteers!... (Full Story & Photos)

LISTEN LIVE TO CARROLL COUNTY, MD FIRE COMMUNICATIONS
(CLICK HERE)

MISSION STATEMENT
It is the mission of the Sykesville-Freedom District Fire Department to preserve life and property, promote public safety and foster economic growth through leadership, management and actions, as an all risk life safety response provider.