2015 Call Stats
FIRE
EMS
January
113
250
February
115
223
March
94
244
April
96
208
May
100
248
June
89
225
July
82
222
August
94
233
September
84
227
October
86
229
November
December
Total
953
2309
Unit Run Stats
Unit
2014
2015
P-127
915
750
P-128
752
755
P-129
779
972
E-123
312
325
E-124
134
139
TWR-12
110
121
SQ-12
173
244
Duty 12
103
105
U-12
221
276
BR-125
42
54
ATV 12
9
14
Total
5564
5770
Past Responses
Fire
EMS
2014
1,006
2,619
2013
828
2,123
2012
764
2,261
2011
864
2,139
2010
859
2,215
2009
1,017
2,182
2008
835
2,127
2007
1,057
1,966
2006
1,071
1,947
2005
960
1,849
Web Counters
Website Visitors
Since
January 1, 2012

Visitors Today
Nov 28, 2015


Latest 10 Responses

07/09/2014: 10:28 CT:ALS MEDICAL CALL 4008 SALEM BOTTOM RD BOX:1418 DUE:E141 E123
07/09/2014: 10:28 CT:ALS MEDICAL CALL 4008 SALEM BOTTOM RD BOX:1418 DUE:E141 E123
07/09/2014: 10:22 CT:BLS MEDICAL CALL 5933 SNOWDENS RUN RD BOX:1207 DUE:X128
07/09/2014: 10:22 CT:BLS MEDICAL CALL 5933 SNOWDENS RUN RD BOX:1207 DUE:X128
07/09/2014: 10:18 CT:ALS MEDICAL CALL 4008 SALEM BOTTOM RD BOX:1418 DUE:X128 FR14
07/09/2014: 10:18 CT:ALS MEDICAL CALL 4008 SALEM BOTTOM RD BOX:1418 DUE:X128 FR14
07/09/2014: 09:14 CT:MUTUAL AID ALARM 70-36 70 E/B AT ROUTE 32 VCR LADNING SITE B1 BOX:HC DUE:E123
07/09/2014: 09:14 CT:MUTUAL AID ALARM 70-36 70 E/B AT ROUTE 32 VCR LADNING SITE B1 BOX:HC DUE:E123
07/09/2014: 07:34 CT:ALS MEDICAL CALL 1326 LONDONTOWN BLVD @HOME DEPOT BOX:1222 DUE:X128
07/09/2014: 07:34 CT:ALS MEDICAL CALL 1326 LONDONTOWN BLVD @HOME DEPOT BOX:1222 DUE:X128
Have you liked our

Facebook

page yet? Check it out here!
Members Access SFDFD Intranet

CLICK HERE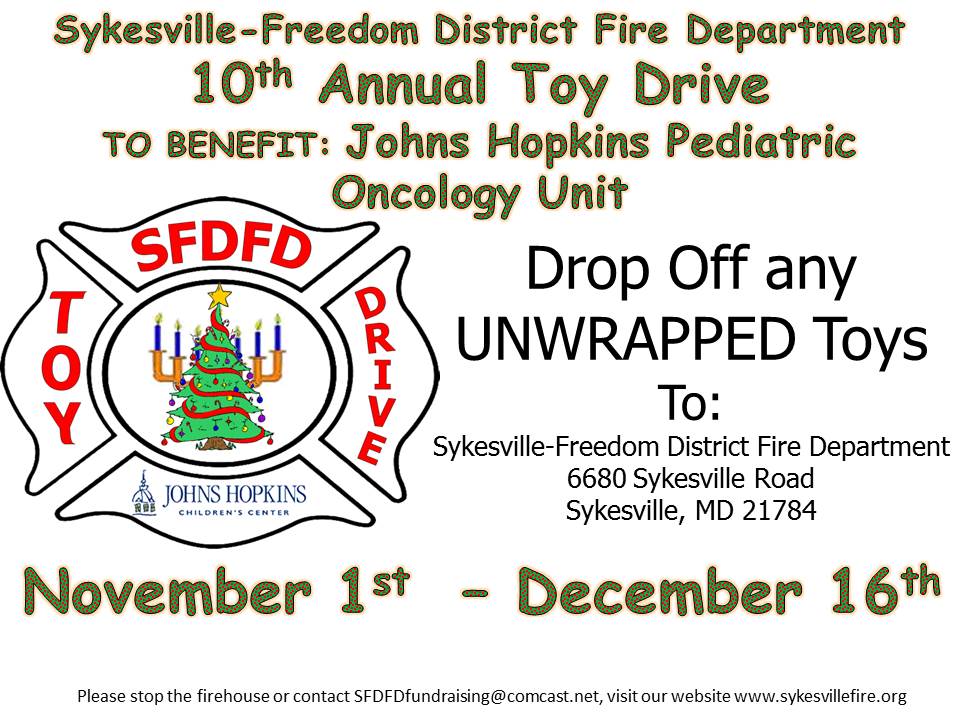 SFDFD is not Soliciting Funds

Chief Eddie Ruch Jr, November 13

The Sykesville Freedom District Fire Department has been made aware that several residents have received a phone call from Law Enforcement Education Program advising they were soliciting funds for the local fire service, victims of home fires, burn victims, etc.

The Sykesville Freedom District Fire Department is not soliciting funds with any Professional Solicitor at this time. ... (Full Story)




Santa Claus is coming to town and eating Breakfast at Sykesville Fire Department

Firefighter/EMT Christine Flanagan, October 31

Come see Santa arrive on the Fire truck and then get your picture taken in Santa's beautiful Sleigh on Sunday, December 6th, 2015 from 8am to 12:00pm. Adults $7.00 Children 3-12 are $4.00, Under 3 are free. Bring a new unwrapped toy to donate to the John Hopkins Pediatric Unit and make Christmas more special for these children. Bring your own camera if you want to take pictures. Lots to do and see ... (Full Story & Photos)

One Killed, Two Critical after Serious Accident

Chief Eddie Ruch Jr, October 25

Just before 6:00 AM this morning Sykesville Fire and EMS units responded to Liberty Road in front of the PNC Bank for a report vehicle overturned with entrapment. Units arrived on the scene and found a vehicle that had left the roadway and struck several poles before coming to a rest overturned down an embankment.

Crews found two patients one which was in trauma arrest lying on the ground in critical ... (Full Story & Photos)

1st Due Working House Fire

Chief Eddie Ruch Jr, October 15

On Friday October 2, 2015, Sykesville Fire Department along with mutual aid units responded to 2200 Carroll Highlands Court in Eldersburg for a reported house fire. First arriving Chief 12-2 (Fleming) reported fire and smoke showing from the second floor and attic area of a two story wood frame home. Chief Fleming also reported that all occupants of the home were out and accounted for.

Engine 123 ... (Full Story & Photos)

Sykesville FD Prevention/Safety Open House

Firefighter/EMT Christine Flanagan, October 07

Sunday, October 18th, 2015
12:00pm to 3:00pm
Come attend our Prevention and Safety Open House. Many things for families to see and do
Fire Engines, Police Cars, Tanks, Child Safety ID's, Lions Vision testing for Children, American Red Cross, Free Hot Dogs and Chips, Maryland State Police, Carroll County Sheriff's Department, Natural Resources Police, Carroll County Health Department, Carroll County ... (Full Story & Photos)

LISTEN LIVE TO CARROLL COUNTY, MD FIRE COMMUNICATIONS
(CLICK HERE)

MISSION STATEMENT
It is the mission of the Sykesville-Freedom District Fire Department to preserve life and property, promote public safety and foster economic growth through leadership, management and actions, as an all risk life safety response provider.