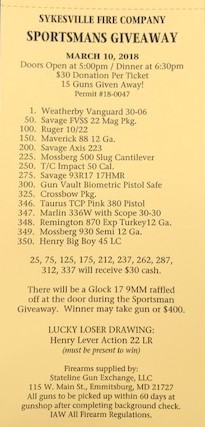 ---
"Like" our Facebook page here!
Follow us on Twitter @SykesvilleFD
Vehicle Collision with One Trapped

Sykesville Fire Department , February 20

Yesterday evening Sykesville Fire and Rescue Units were dispatched for a vehicle collision at Route 32 and Piney Ridge Parkway. Chief 12 arrived and found a two vehicle T-Bone accident with one person trapped in a passenger car.

Tower 12 and Engine 124 arrived and quickly went to work stabilizing both vehicles to prevent them from moving. Hydraulic rescue tools were used to remove the passenger ... (Full Story)




Both Engines to New Windsor Garage Fire

Sykesville Fire, January 24

Yesterday evening while the Tower and Squad were on a 2nd Alarm house fire in Mt. Airy, Engine 123 and Engine 124 responded to 3300 Block of Hooper Road to assist units on the scene with a working garage fire.

Crews operated on the scene assisting with overhaul before returning to service. ... (Full Story & Photos)

Tower and Squad to 2nd Alarm House Fire

Sykesville Fire, January 24

Yesterday afternoon Tower and Squad 12 responded to the 5900 Block of Cabbage Spring Road in Mt. Airy for a reported house on fire. Responding units could see a large column of smoke and Chief 1 requested a tanker task force to respond.

Mt. Airy units arrived on the scene and confirmed a working house fire. Tower 12 arrived and positioned in front of the house and prepared to use tmaster streams. ... (Full Story & Photos)

Tower 12 to Mt. Airy House Fire

Sykesville Fire, January 23

This morning at 4:47 am, Tower 12 responded to 6600 Block of Christy Acres Drive in Mt. Airy for a reported house on fire. Engine 12 from Mt. Airy arrived on the scene and reported a two story residential structure with fire showing from the Bravo Side of the house. Tower 12 arrived and placed ground ladders to the second floor windows and assisted with overhaul of the roof and attic areas of the ... (Full Story & Photos)

Maryland Smoke Alarm Law Deadline Approaches - What You Need To Know

Public Information Officer Bill Rehkopf, December 29

A new state law aimed at reducing home fire deaths went into effect on July 1, 2013. It requires replacement of any battery-only operated smoke alarm that is more than 10 years old with a unit powered by a 10-year sealed-in battery having a "Hush" button feature – ultimately affecting more than 800,000 Maryland homes with battery- only operated smoke alarms. The effective date for this requirement ... (Full Story & Photos)

LISTEN LIVE TO CARROLL COUNTY, MD FIRE COMMUNICATIONS
(CLICK HERE)

MISSION STATEMENT
It is the mission of the Sykesville-Freedom District Fire Department to preserve life and property, promote public safety and foster economic growth through leadership, management and actions, as an all risk life safety response provider.